Olympian javelin thrower Arshad Nadeem made history on Sunday night as he became the first South Asian to cross the 90m barrier in the sport and the first-ever Pakistani to claim the athletics gold medal at the Commonwealth Games in Birmingham. The 25-year-old broke the world record with a throw of 90.18m, defeating his closest competitor and World Athletics Championship 2022 gold medallist, Grenada's Anderson Peters.
The record-breaking feat was met with an overwhelming response from across the country, with people taking to social media to commend the athlete's performance, including several well-known faces.
Shaniera Akram
Activist and social media personality Shaniera Akram tweeted out her support for the athlete's achievement. She wrote, "Gold for Pakistan – incredible effort Arshad Nadeem! Not only a gold medal but a new record. Zubardast, bohut bohut mubarak."
Gold for Pakistan- incredible effort Arshad Nadeem!
Not only a Gold medal but a new record 🥇 Zubardast Bohut Bohut Mubarak 🥳

— Shaniera Akram (@iamShaniera) August 7, 2022
Nabeel Qureshi
"Watched more than 20/30 times the video of #ArshadNadeem javelin throw of 90+ meters, tough competition with the @iShaheenAfridi video of the T20 World Cup," the Quaid-e-Azam Zindabad director-writer shared.
Armeena Khan
Actor Armeena Khan retweeted a video clip of Nadeem wearing his gold medal in the stadium, the national anthem played in the background as the Pakistani flag was raised. She wrote, "Congratulations Arshad Nadeem and how pretty is the anthem."
Meesha Shafi
Singer Meesha Shafi also retweeted a video clip of Nadeem after his record-breaking throw, coupled with an emoji of the Pakistani flag.
Shaista Lodhi
Television host Shaista Lodhi chimed in, "Well done #ArshadNadeem for achieving such a great feat. First-ever gold medal for Pakistan in athletics in the last 60 years, and with a knee and elbow injury. You are a true inspiration and a hero for all."
Aijaz Aslam
Sharing similar sentiments, actor and producer Aijaz Aslam added, "Mashallah…Thank you Arshad Nadeem for bringing joy to Pakistanis & making Pakistan proud."
Sami Khan
Actor Sami Khan shared a message alongside a photograph of the athlete: "Whole Pakistan is proud of you, #ArshadNadeem"
Hamza Ali Abbasi
The Legend of Maula Jatt actor also tweeted Nadeem's photo accompanied by an emoji of the Pakistani flag.
Aiman Khan
While actor Aiman Khan tweeted, "Congratulation #ArshadNadeem, we are proud of you. #CommonwealthGames2022", she tweeted.
Adnan Malik
Bin Roye actor Adnan Malik reshared a video clip of Nadeem on his Instagram stories with a note. "Our athletes achieve so much with so little. Poor infrastructure, very little training support, mediocre coaching. Just sheer passion and self-belief. I pray for a day when our heroes are supported institutionally by the state. So much potential. Congratulations @arshadnadeem29," the actor wrote.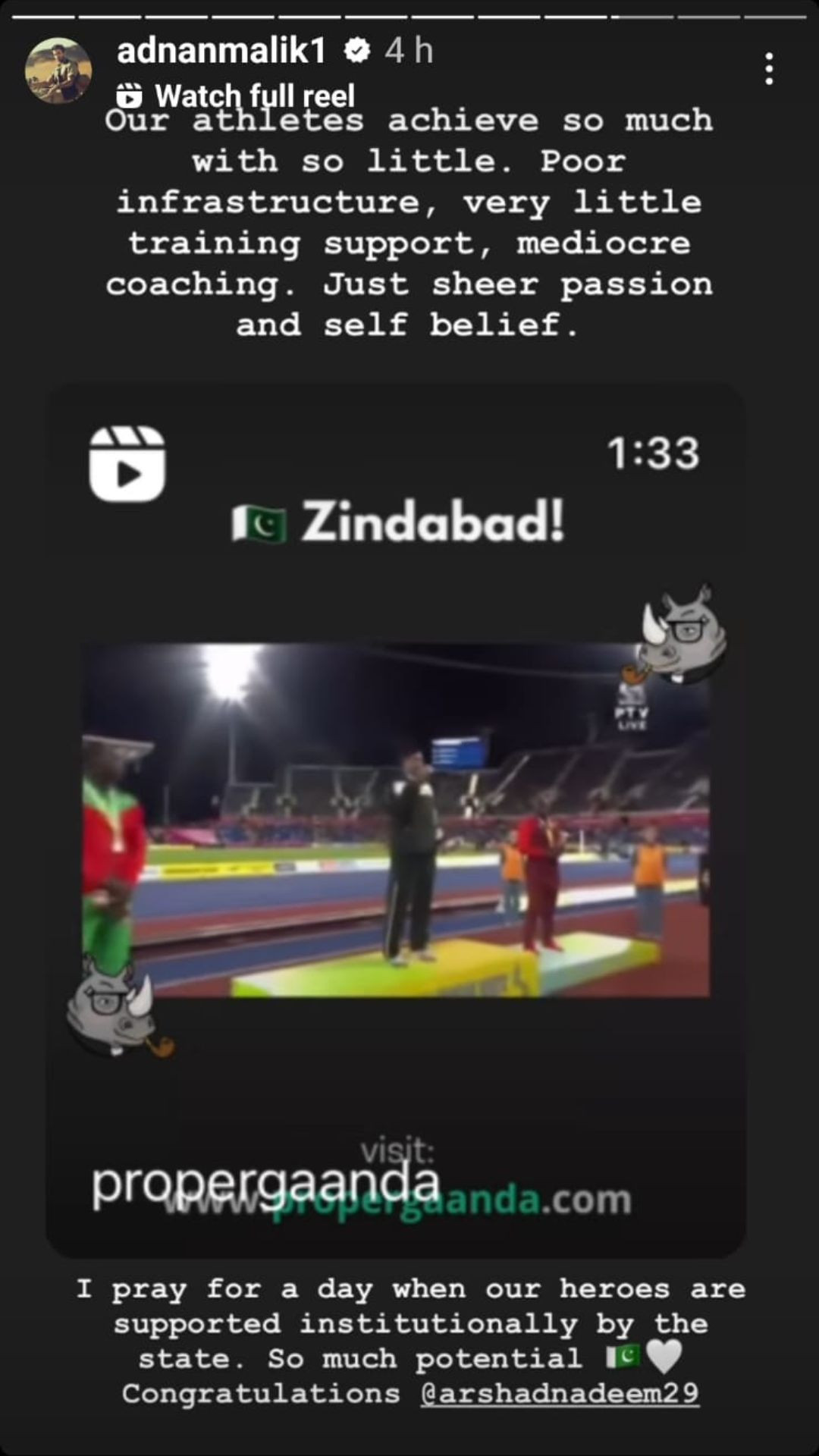 Ahmed Ali Butt
Actor Ahmed Ali Butt posted a photograph of Nadeem on his Instagram stories and shared the following: "Arshad Nadeem, you have made the whole nation proud today. Despite being injured, you pushed for gold. Allah bless you and thank you for making us all proud of you."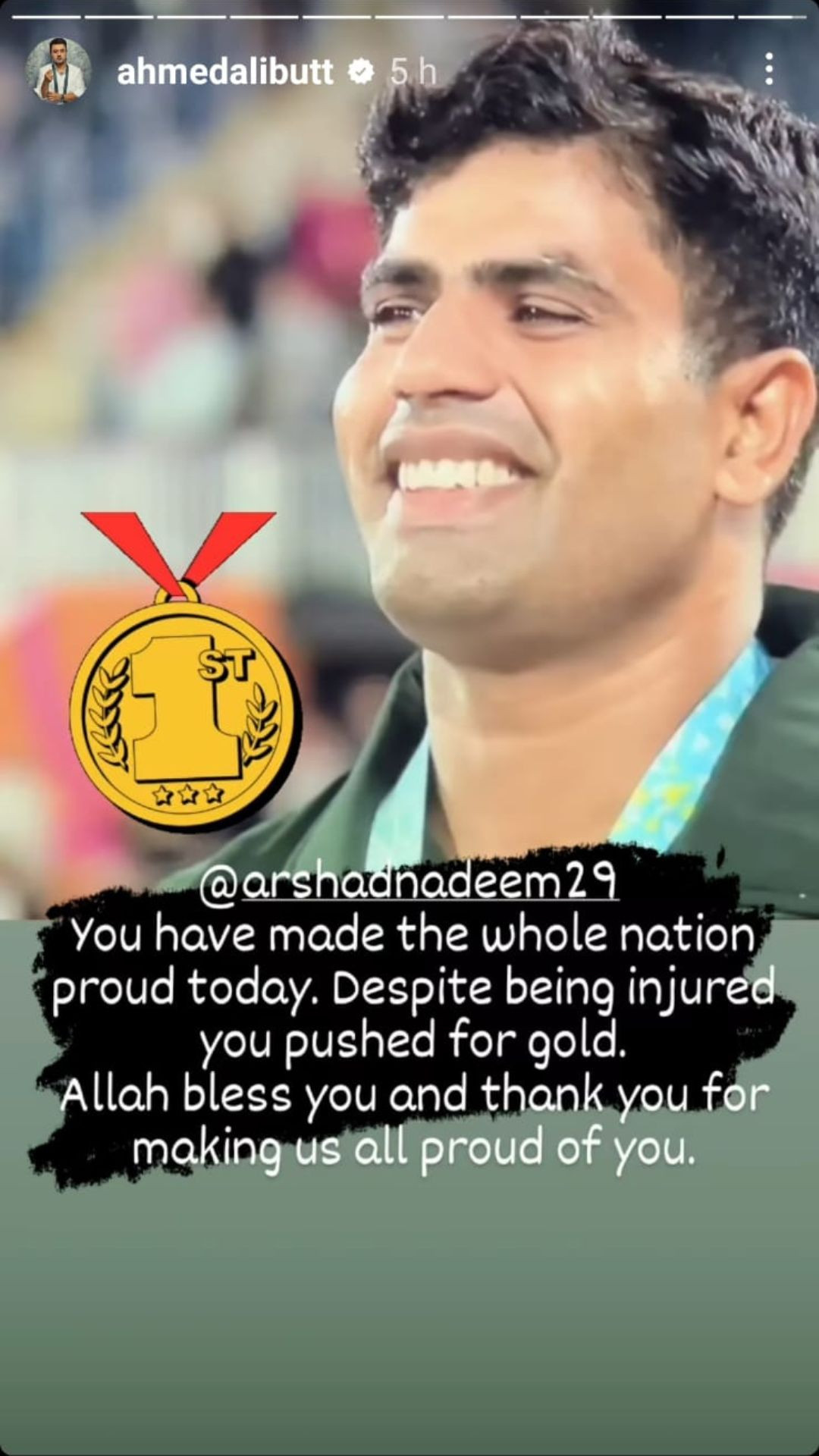 Xulfi
Coke Studio producer Xulfi made a post on his Instagram with a congratulatory note for the athlete. The note read: "Fought an injury. Defeated the current world champion. Made a new Commonwealth record. Made his longest javelin throw ever. This is a true story that just happened. A story of a champion. A champion from Pakistan. I don't remember a better example of perseverance in Pakistan sports."
Nadeem became the first Pakistani in 2019 to qualify for the athletics event at the Olympics and finished fifth in Tokyo. With his gold medal, Pakistan bowed out of the Commonwealth Games with two gold, three silver, and three bronze medals.
Have something to add to the story? Share it in the comments below.
Advertisement. Scroll to continue reading.